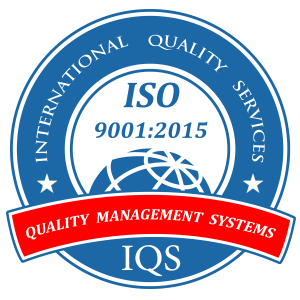 Quality Management System  ISO 9001
ISO 9001 for Quality Management Systems is the most internationally recognized business management standard.  Over a million organizations throughout the world, from manufacturing through to the service sector, have adopted ISO 9001 to achieve uniformity in their business processes, thereby enhancing business improvement.
Every organization would like to improve the way it operates, whether by increasing market share, driving down costs, managing risk more effectively or improving customer satisfaction. A quality management system gives you the framework you need to monitor and improve performance in any area you choose.
ISO 9001 is suitable for any organization looking to improve the way it is operated and managed, regardless of size or sector. In addition, ISO 9001 is designed to be compatible with other management systems standards and specifications, such as OHSAS18001 ,ISO 14001 and ISO 22000 .They share many principles, so choosing an integrated management system can offer excellent value for money.
The  Benefits :
Competitive advantage
Internationally approved and Trusted name
Improves business performance and manages business risk
Reduces costs and increases efficiency
Increases customer satisfaction
Repeat business
Increases morale and motivation of staff
Encourages internal communication
Enhanced company profile
Continual improvement
Due diligence
IQS Advantages:
IQS Internationally recognized  certification marks
IQS Competitive cost
IQS Carefully selected qualified auditors
IQS Simplicity and transparency auditing services
IQS Supplier enhancement
IQS Corporate image
IQS Improved communication
IQS Best Practice
IQS Processes certification faster than other Certification Body
IQS Promotes your E-certification in our  international website