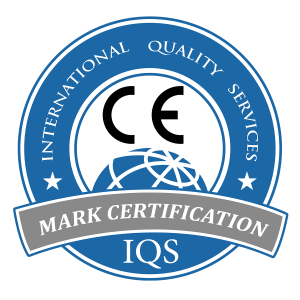 Since 1985 the CE mark is a compulsory conformity marking for some products which an organization wants to sell within the European Economic Area (EEA). "CE" refers to Comminute Euro peen. Translated from the French, this literally means European Community. The CE mark can also be found on the products which are sold outside the EEA that are manufactured or designed to be sold in, the EEA. This makes CE marking identifiable all around the globe including the people who are not known to the European Economic Area. The CE mark consists of CE logo and four digit identification number of the notified body involved in the conformity assessment procedure.
CE marking does not show that a product was made in the EEA, but it simply states that the product has been evaluated, checked before being placed in the market and thus ensures the product safety.
CE Marking means that the manufacturerhas:
Audited as per the product certification standard by an Notified Certification body.
Made the product as per standard given by the European standard.
Organization ensures the product safety, set up of technical file, issuing the declaration of conformity and to fix CE mark to a product and to prepared all the necessary documents related to the same. In case the product is imported from outside the EEA, It is the responsibility of importer to make sure that the manufacturer has followed all the necessary steps and the documentation is available on the request.
Goals of CE marking are follows:
To ensure the free movement of goods.
Allow products to be placed on the market.
Indicate product's conformity with the essential requirements.
Allow the withdrawal of non-conforming products by customs and enforcement authorities.
Europe is very competitive market which is easier to access. Many exporters of India avoid it because entry of technical requirements is very much complicated, difficult, and costly. The European Union consists approximately 40 million of well to do consumers. The market of Europe is such a large area that it contains more than 25 countries.
Benefits of CE marking:
Lower product liability risks.
Improved production.
European market growth potential.
Enhanced product design.
List of New Approach directives for CE Marking:
Low Voltage Equipment (LVD)
Simple Pressure Vessels
Toys Safety
Construction Products
Electromagnetic Compatibility (EMC)
Personal Protective Equipment (PPE)
Non-Automatic Weighing Instruments
Medical Devices – Active Implantable
Appliances Burning Gaseous Fuels
New Hot-Water Boilers fired with Liquid or Gaseous Fuels (Efficiency Requirements)
Explosives for Civil Uses
Medical Devices – General (MDD)
Equipment and Protective Systems in Potentially Explosive Atmospheres (ATEX)
Recreational Craft
Packaging and Packaging Waste
Lifts
Pressure Equipment Directive (PED)
Machinery Safety
Medical Devices – In Vitro Diagnostic (IVD)
Radio Equipment and Telecommunications Terminal Equipment
Cableway Installations designed to Carry Persons
Measuring Instruments